Lost Swat scroll
2009



Drawing workshop at Camp Kachagari 2009. Field documentary images.
​In 2009 the US initiated drone attacks on the tribal areas bordering Pakistan and in the province of Swat. The attacks, supposed to drive out Taliban cells, instead killed and terrorised hundreds of thousands of people who fled their flaming villages with nothing but the clothes on their backs. Seventy thousand internal refugees from the tribal areas came to be contained in Camp Kachagari on the outskirts of Peshawar.
I had come to Pakistan for a period of study of miniature at the National College of Art, Lahore. I felt sickened about the violence of the intervention and its consequences. I didn't want to sit in a studio, I wanted to meet refugees, see conditions in the camps for myself, and offer something in my capacity as an artist. I
put up a sign at the college asking for donations of paper and crayons. I
called the Human Rights Commission of Pakistan. As an unknown painter and foreigner, obtaining permission to visit a camp was not easy, and required the reference of an influential person. I was fortunate to gain this from someone who knew my work and so I visited Camp Kachagari where I gave several art workshops to child refugees. in Camp Kachagari were very harsh. Peshawar contains green and shaded golf courses and public parks, but the refugee camp was located outside the city on land barren and scorched. It was summer and over fifty degrees. Used to the cooler mountain areas the tribes people especially the children suffered with heat rashes and boils. There was scarcity of water. There was no school, nothing in fact for the children to do.
​
I wondered why conditions in the camp were so poor in light of aid pouring in, and the goodwill of many Pakistanis. That was how I learned about the internal politics governing aid distribution. The people of the tribal areas did not receive assistance similar to those of Swat. When Pakistan the nation was declared in 1947 the tribes bordering Afghanistan chose semi-autonomy in light of their ethnicity and disproportionate representation in the predominantly Punjabi-led government. The tribes' gained the right to exercise some power in their own villages but at the cost of access to state welfare and assistance. Importantly also in the eyes of many Pakistanis the tribes had surrendered Pakistani identity. Thus when the drones came, unlike refugees from Swat who received copious aid and billeting in villages across Khyber Pashtunistan and beyond, refugees from the tribal areas ended up in no-man's land-style camps such as Kachagari.
These understandings and perceptions motivated paintings for Lost Swat scroll which involved in-situ drawing in Camp Kachagari. I had never encountered in children such hunger for expression. In small groups they sat in fifty degrees heat drawing for hours after the grownups had fallen back into the tents. The crayons melted in the sun as pictures took shape. Some children drew images of bombed villages, drones, and wounded people. Others drew patterns, flowers, the memory of homes, rivers, and families.
The children of Kachagari showed me how much expression mattered. It was if the colours were food. They drew like there was no tomorrow.
Unfortunately after three days my entry permit to the camp was cancelled and with it tomorrows of drawing. Perhaps activities of art were challenging the status quo. Perhaps too I was witnessing conditions the officials would rather conceal. I lacked the authority to protest though later I was invited afterwards to work with refugees from Swat being billeted with the Safi tribe outside Mardan who collaborated with me further on the scroll. A twelve year old boys wrote the following poem:
Your hujras, the guest compounds, are empty.
The people of your village, they don't know where they are.
All your luggage, your belongings are on your head and shoulders.
All the elders who saw your village in the making are just sitting perplexed.
All of the children are crying.
Oh remember that spring, that canal bank?
Everything has lost its inhabitants.
Oh remember that midnight, that universe of stars.
Everything is quiet in our village.
The experience of being prevented from continuing workshops in Camp Kachagari was disturbing and was what prompted to pursue further study to try to gain such layers of authority as might allow me better chances with conducting such work in future.
​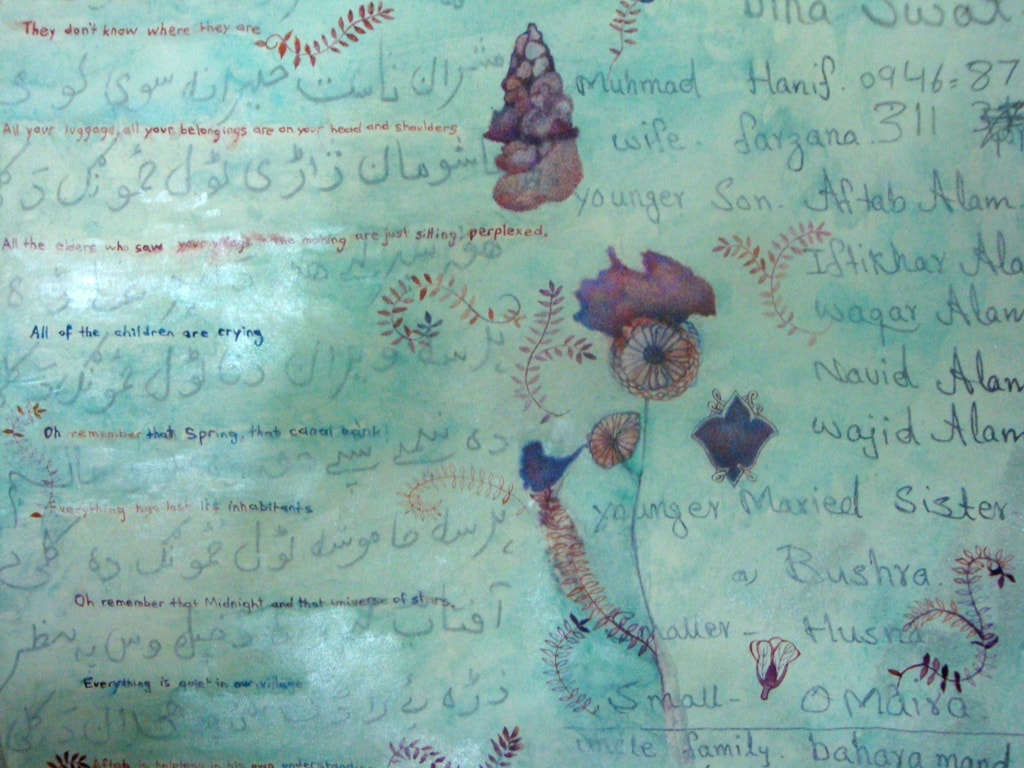 Lost Swat scroll. Details. Collaborative writing, watercolour, paper.
​
Post script

Lost Swat scroll is actually lost. It was lost in transit as I boarded a flight from Kolkata to Delhi. I had sectioned the scroll which had become damaged, intending to paste these into a larger wasli. It is thought the work might have ended up somewhere within or nearby Kolkata airport. In sharing the story of Lost Swat scroll and its images, my hope is that the work still exists, and that if so, perhaps someone may recognise them. If so, please contact me, and help me reconnect the pieces, so as to complete the painting of this story to share in materiality.