The New Adventures of Zal and Rodebeh
2009
​



​ The New Adventures of Zal and Rodebeh. Detail. Watercolour, paper, found material. Detail. 60cmx12cm (entire).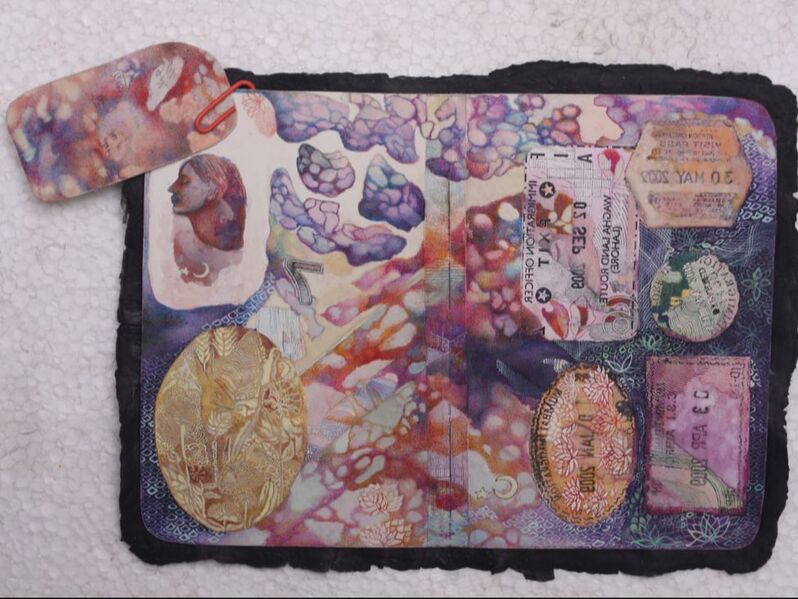 Rodebeh's Passport. Watercolour, collage, paperclip, latex. 12cmx15cm. 2009.


​Rodebehs' Passport and The New Adventures of Zal and Rodebeh were created for "The Shahnama Book of Kings: Contemporary responses: Cambridge Shahnameh Project". The two paintings comprising a narrative scroll and 'passport' were my way of dialoguing with personal senses of the tyranny of borders, and the Indo-Pakistan border in particular.

The works in tandem build on the metaphor of mythical lovers of the Shahnameh Zal and Rodebeh, however in my story the lovers have separate nationalities as Rodebeh is Indian and Zal is Pakistani. The scroll does not explore the details of how the two met rather it delves the life-sapping nature of the border in terms of the experience of waiting out life, as the energy and processes required to cross it mount and become impossible.

Rodebeh's scroll and The New Adventures of Zal and Rodebeh much reflect thoughts and experiences of crossing between Baroda and Lahore. Crossing brought awareness of what it meant to be an artist traversing and making across borders. Simultaneously a privilege and a kind of burden. Crossing involved complex processes of gaining permission that invariably consumed large amounts of energy as I negotiated political/administrative obstructions to my path. But I felt compelled to make use of my Australian passport for which there was good chance of actually obtaining a visa at the end, as it was something that my fellow students in Baroda did not have and which I could not take for granted.