The New Adventures of Zal and Rodebeh
2009
​



​ The New Adventures of Zal and Rodebeh. Detail. Watercolour, paper, found material. Detail. 60cmx12cm (entire).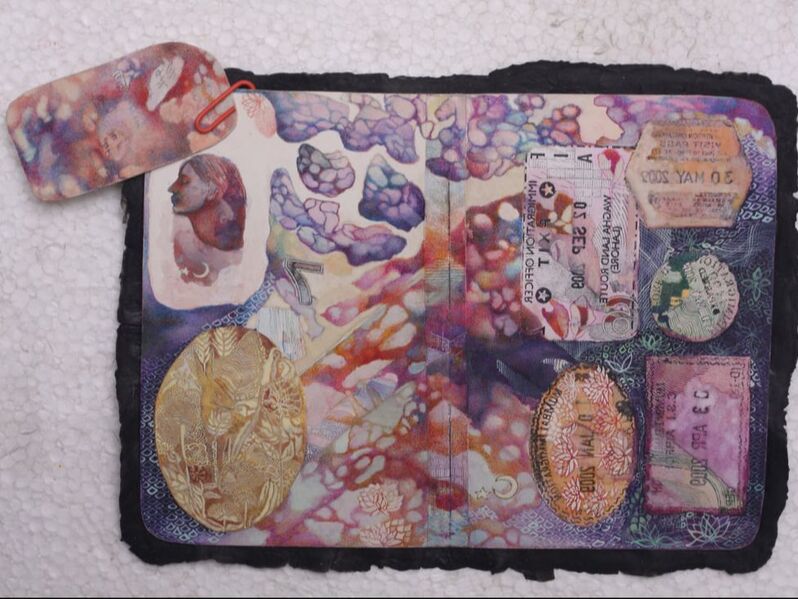 ​
Rodebeh's Passport. Watercolour, collage, paperclip, latex. 12cmx15cm. 2009.


​Rodebehs' Passport and The New Adventures of Zal and Rodebeh were created for the Shahnama Book of Kings: Contemporary responses: Cambridge Shahnameh Project. The narrative scroll and 'passport' are about the tyranny of borders, the Indo-Pakistan border in particular.

In this work mythical lovers of the Shahnameh, Zal and Rodebeh, become lovers divided by the Indian and Pakistani rift of Partition. My my sense of the life-sapping and impermeable nature of this border came as I made crossings of it. The complex bureaucratic procedures this invariably entailed exposed me to the suspicion and mistrust governing attitudes on both sides. But spending time on each side of the border also brought me into contact with many people who remembered older, pre-Partition connections and who longed, in ways just like the lovers, to cross this illogical rift and heal the past.